Drinking green smoothies is an easy way to increase your intake of vitamin K, iron, and antioxidants. Make delicious and healthy green smoothies at home with these easy recipes.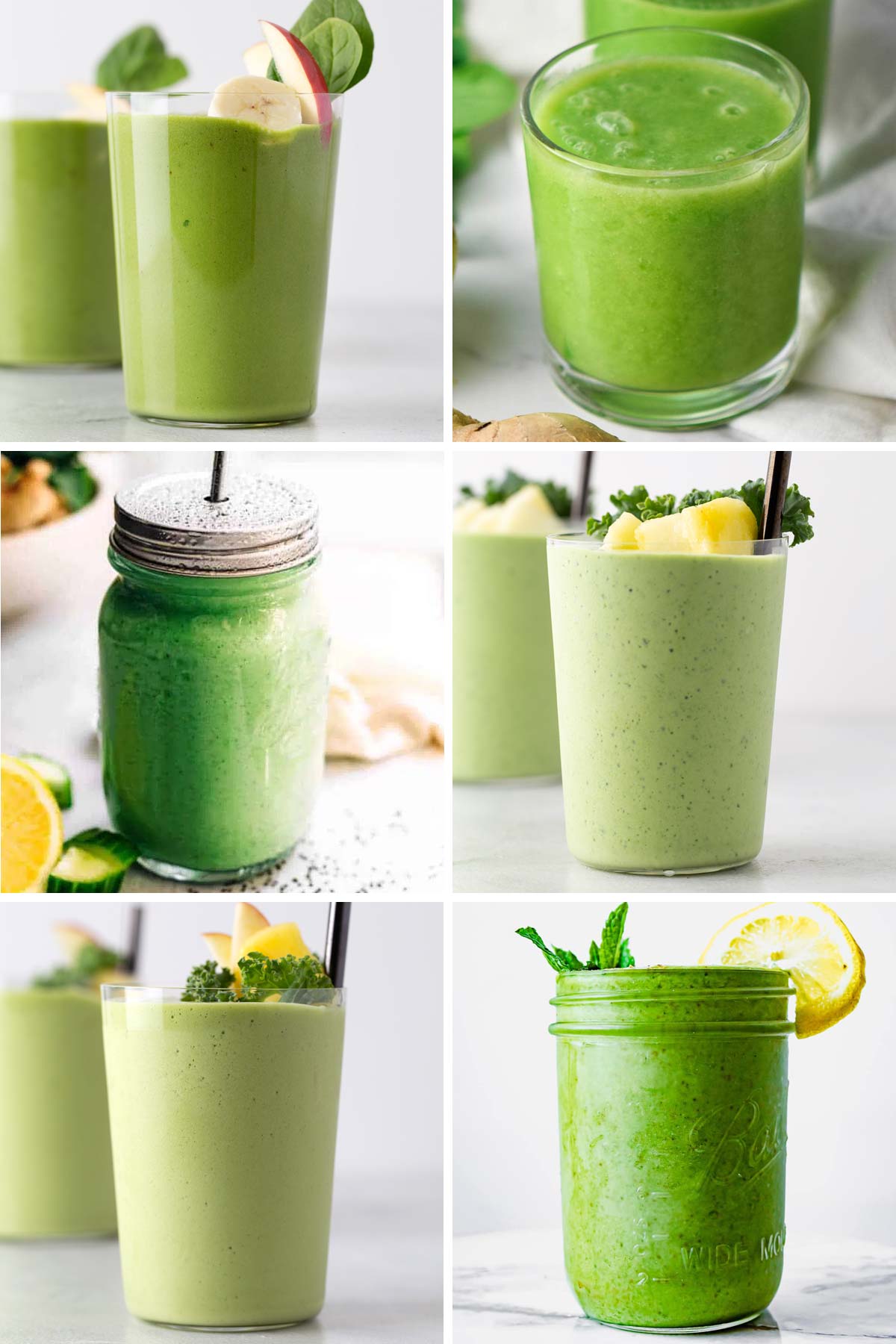 Jump to:
Green Smoothies
A green smoothie is a chilled drink made of liquid, leafy greens, and fresh and frozen fruit. It takes about 5 minutes to make in a blender.
Most green smoothies get their color from leafy greens. The most popular options are kale and spinach.
Kale has an earthy and slightly bitter taste, so it's usually paired with a natural sweetener or sweet fruits. This will help balance the earthy flavor.
Spinach has mild, slightly grassy taste. It has a lighter flavor than kale, so it might be a good choice for your first green smoothie.
Green smoothies are very healthy. They're packed with fiber, antioxidants, and essential vitamins.
RELATED: 15 Best Protein Shake Recipes
5 Green Smoothie Health Benefits
1. Promotes Healthy Digestion
When you drink a green smoothie, you're getting a good amount of fiber. This comes from the fruits and vegetables.
Your body needs fiber to form healthy bowel movements. When you don't get enough, you're more likely to develop digestive issues.
2. Contains Antioxidants
Oxidative stress increases the risk of disease and sickness. However, eating plenty of antioxidants can help reduce oxidative stress.
Antioxidants are found in fruits and vegetables. Berries and leafy greens are especially high sources.
3. Increases Fullness
The fiber in green smoothies will keep you satisfied for a long time. This is because the body doesn't digest fiber quickly.
Some green smoothies have protein-rich ingredients, which make them even more filling. Examples include cow's milk, soy milk, protein powder, and Greek yogurt.
4. Protects Brain Health
Many green smoothies have leafy greens, some of the best foods for brain health. This is from the folate and antioxidants in the greens.
Folate is an important vitamin for the brain. It's needed for good brain function, especially as you get older.
Antioxidants protect brain cells from oxidative stress, which is harmful for memory and mental function.
Green smoothies with berries are even better for the brain. Berries contain anthocyanins, which are antioxidants that protect brain cells and help your brain get more oxygen.
5. Support Immune Function
Fruits and vegetables are some of the best sources of vitamin C.
Since green smoothies contain both ingredients, these smoothies can help you get enough of the nutrient.
Your immune cells need vitamin C to fight germs that cause sickness.
RELATED: 17 Fruit Smoothie Recipes
17 Best Green Smoothie Recipes
Related Smoothie Recipes
Want to save these recipes to Pinterest for later? Pin it now to your Pinterest board!