Each of these healthy and tasty smoothie drink recipes contain anti-inflammatory ingredients that are high in antioxidants, vitamins, fiber, and healthy fats.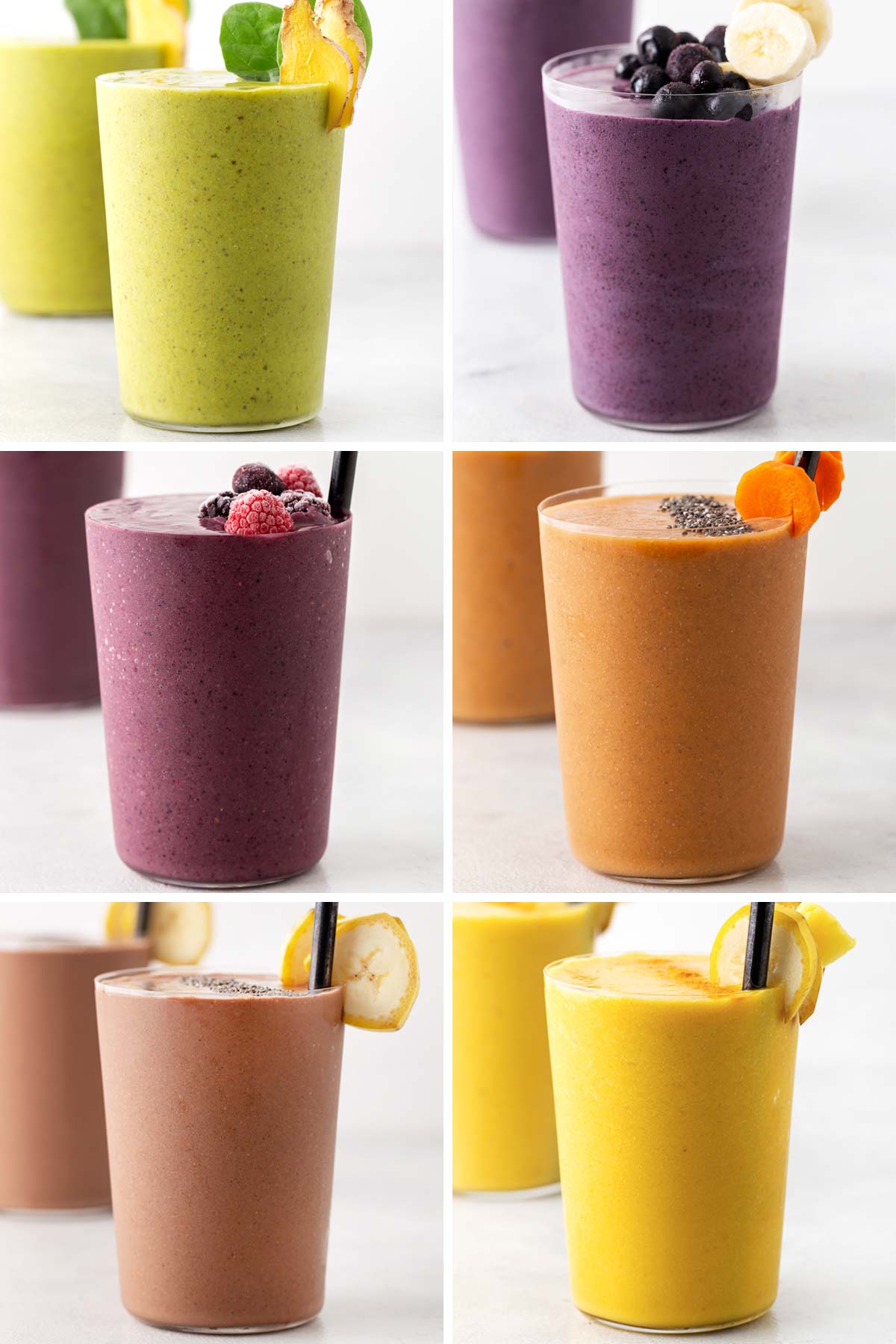 Jump to:
Anti-Inflammatory Smoothies
Any smoothie made with fruits or vegetables has anti-inflammatory benefits. But some recipes are better at fighting inflammation than others.
The perfect anti-inflammatory smoothie is high in antioxidants, vitamins, fiber, and healthy fats like omega-3s.
These nutrients are found in ingredients like fruits, leafy greens, nut butters, seeds, and plants like ginger and turmeric.
To make a smoothie, these anti-inflammatory ingredients are combined in a blender.
The key is to use the right proportions to ensure the drink is tasty and has a good texture.
RELATED: 17 Best Healthy Smoothies
5 Anti-Inflammatory Smoothie Health Benefits
1. Reduces Inflammation
The main benefit of anti-inflammatory smoothies is its ability to lower inflammation.
Inflammation is a normal function in the body. It's part of the immune system's response to harmful germs or damaged cells.
But if it continues for too long, it can increase the risk of chronic disease. Examples include cancer, heart disease, and diabetes.
Drinking anti-inflammatory smoothies is a natural, tasty way to decrease the risk.
2. Controls Oxidative Stress
When inflammation builds up, it can lead to oxidative stress. This oxidative stress increases inflammation, causing a cycle.
The nutrients in anti-inflammatory smoothies can help control these reactions. Many anti-inflammatory foods also have antioxidants, which specifically target oxidative stress.
3. Increases Hydration
Anti-inflammatory smoothies are made with a liquid base, like oat milk or almond milk.
The liquid will add to your daily fluid intake, ensuring you stay hydrated. Many fruits and vegetables have water too.
Your body needs fluids for many functions, including digestion, breathing, and metabolism.
4. Supports Brain Function
If inflammation goes on for too long, it may damage nerve cells, or neurons. This can lead to brain disorders.
Drinking an anti-inflammatory smoothie is a natural, easy way to control inflammation and protect your brain.
5. Improves Gut Health
Fiber, which is found in many anti-inflammatory fruits and vegetables, is beneficial for inflammation.
The nutrient helps good bacteria in the gut flourish and grow. This balances the gut, which reduces inflammation.
Plus, fiber lowers the pH of the gut, resulting in lower inflammatory substances.
RELATED: 17 Best Fruit Smoothie Recipes
17 Best Anti-Inflammatory Smoothies
Want to save these recipes to Pinterest for later? Pin it now to your Pinterest board!
More Smoothie Recipes