If you're sensitive or allergic to dairy, try making these creamy dairy-free smoothies. Each 5-minute recipe is easy, quick, and delicious.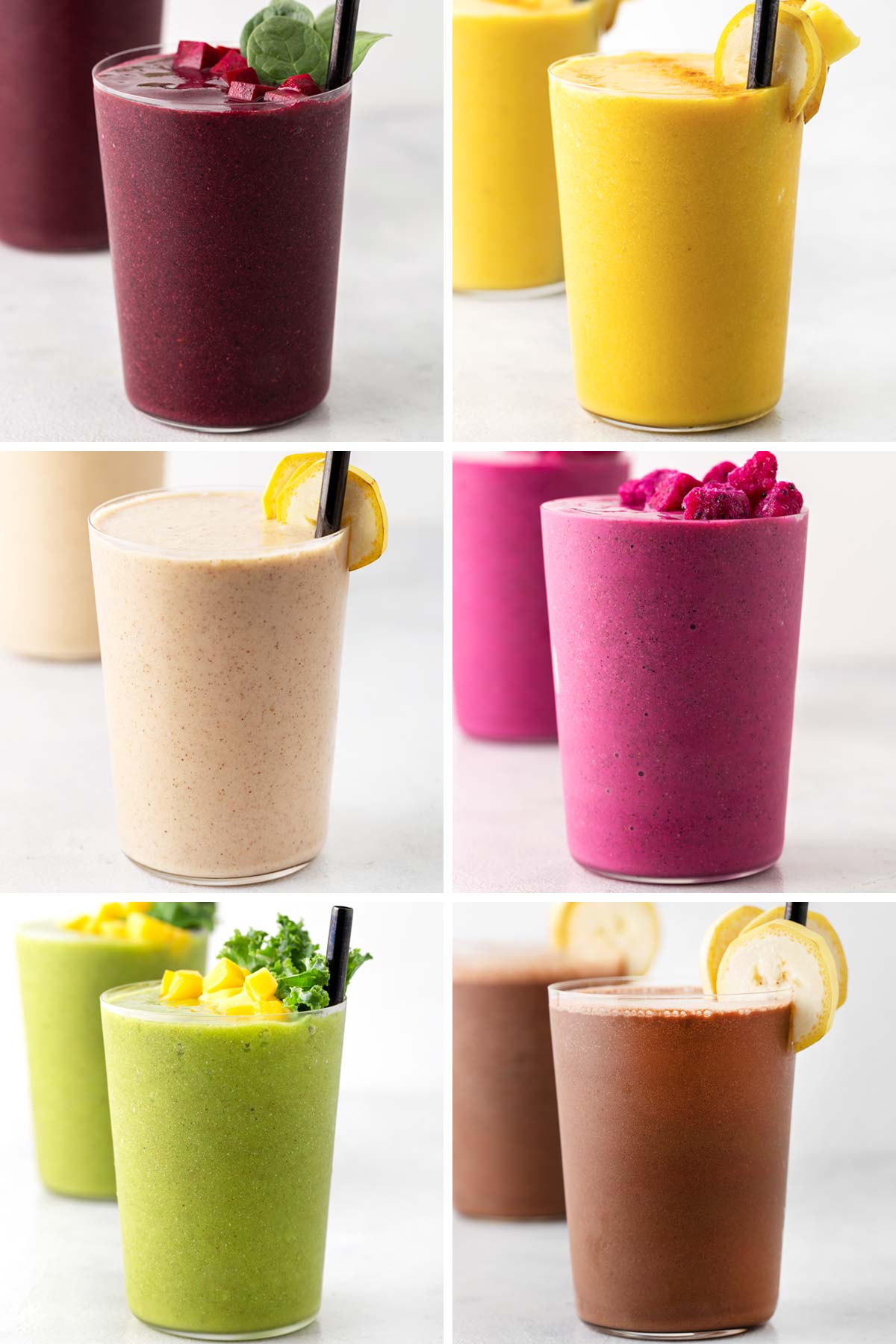 Jump to:
Dairy-Free Smoothies
Cow's milk and other dairy products make drinks creamy and thick but it's possible to make a satisfying smoothie without dairy. The trick is to use the right type of milk and combination of ingredients.
Most dairy-free smoothies are made with a base of plant-based milk. Examples include oat milk, almond milk, and coconut milk.
Some versions use juice, but contain other creamy ingredients like frozen banana or plant-based protein powder.
When blended with fruits or vegetables, these ingredients create a delicious smoothie without the need for dairy.
RELATED: 17 Best Breakfast Smoothie Recipes
5 Dairy-Free Smoothie Health Benefits
1. Boosts Hydration
Drinking fluids throughout the day is key for staying healthy. Your body needs fluids to do many important functions, from digesting food to controlling temperature.
Dairy-free smoothies can contribute to your daily intake. The fluids mainly come from plant-based milk and juice.
Fruits and vegetables, which are also used in smoothies, offer some water too.
2. Helps Digestion
Dairy-free smoothies are high in fiber, which promotes healthy bowel movements. The fiber comes from the fruits and vegetables.
Plus, dairy-free smoothies are usually easy on the stomach because they don't have lactose. This makes them ideal if you have a sensitive gut.
3. Offers Antioxidants
When made with fruits and vegetables, a dairy-free smoothie can help reduce oxidative stress.
This is due to the antioxidant content of fruits and vegetables. Antioxidants are compounds that protect cells and decrease the risk of disease.
4. Lowers Inflammation
The antioxidants in dairy-free smoothies fight inflammation as well. This is important because too much inflammation can lead to sickness.
Additionally, some dairy-free smoothies use seeds as a thickener. Seeds are high in healthy fats with anti-inflammatory effects.
5. Improves Fullness
A dairy-free smoothie can be a satisfying treat. It's thanks to the high fiber content, which enhances the feeling of fullness.
If the dairy-free smoothie has protein powder, nut butter, or seeds, it will be even more filling.
These ingredients contain protein, a nutrient that reduces hunger and increases satiety.
RELATED: 17 Best Anti-Inflammatory Smoothies
17 Dairy-Free Smoothie Recipes